Thickness Measurement
The use of Ultrasonic non-destructive testing (NDT) to check material properties such as thickness measurement is now extensively used in all facets of industry. The ability to gauge thickness measurement without requiring access to both sides of the test piece, offers this technology a multitude of possible applications. Metals, plastics, ceramics, glass and other materials can easily be measured by portable ultrasonic thickness gauges with a common accuracy.

Ultrasonic thickness gauges measure the thickness of a part by measuring the time sound travels from the transducer through the material to the back end of a part, and then measures the time of reflection back to the transducer. The gauge then calculates the thickness based on the velocity of sound through the material being tested.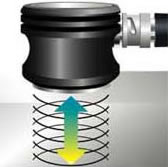 One of tost widespread NDT methods in mechanical equipment of industrial installations for the characterization of erosion and deterioration is the thickness measurement with the Ultrasonic method. Loknath NDT service offers high level thickness measurement services on pipes, pressure vessels, boilers, tanks etc., by its experienced and certified inspectors. Thickness measurement is achieved by placing the UT probe on the object surface. Local or general reductions of thickness can be located and measured with high precision. The instruments that are used for the measurement are portable and light with possibilities of saving the measurements data in a data logger.
The use of different probes offers the capability to perform thickness measurements in inaccessible surfaces, on very thin plates, on high temperature environments, above paint (thru-coat or echo to echo functions) as well as on surfaces with intense local corrosion without any surface smoothing required (use of pencil type probes).